The best superhero TV series of 2015 and 2016, three-time «Saturn» award winner, the multi series film «The Flash» was liked by the audience from the very first episode: during the 5 seasons they were holding their breaths and watching the mind-blowing twists of life of an ordinary guy Barry Allen who suddenly received superpowers.
Fans who were looking forward for the next season can celebrate: «DC Entertainment» has announced officially that the 6th season of adventures of Flash will come out in October 2019. The spin-off of the show «Arrow» has become the most popular TV series in the history of «DC» and the executive producer of the show Greg Berlanti announced the beginning of filming in 2019: such a successful project couldn't have been closed.
A forensic expert called Barry Allen have been suspecting for many years that his mother was killed by a man with superpowers and his father, sentenced to life imprisonment, wasn't guilty. To prove that he is right, he works day and night: but the big explosion in the laboratory changes Barry's life. Instead of serious injuries he receives a unique gift: now he can move with the speed of light. But the main hero isn't the only person who got new powers and not all the others have god aims.
Contents:
The Plot
In the first season Barry Allen gets superpowers after a mysterious explosion in the laboratory. Not knowing what to do with this power, he turns to specialists for help – to team S.T.A.R. Labs takes care of Barry and helps him to become a superhero. But the evil doesn't sleep: one after another meta-humans try to seize power and they were also transformed because of the fateful explosion. The Mist, producing poisonous gases, Captain Cold along with Heat Wave, Hannibal Bates who can turn into anyone. The main antagonist – Reverse-Flash killed Barry's mother and he is trying hard to kill the hero. Everything is difficult with the relationships of the characters: the love triangle of Joe-Iris-Eddie, the troubled relationship between Barry and Linda make the viewers worry no less than exciting battles.
In the 2nd season there are 2 Flashes: there appeared a portal in Central City from which people from other worlds can come. Thus, Barry meets his counterpart from the parallel world. Together with Jay Garrick they send numerous villains from 2 realities to that world. Cisco helps them with it: he turns out to be a meta-human too. Professor Wells is involved into it, he admits that he killed Barry's mother and his father gets out of prison. Barry will have to go through lots of difficult challenges: he will lose his powers, jump into another world. But due to the help of his friends he will get over everything and even save his mother from death, by moving into a new reality.
Season 3 opens with an idyllic picture of the reunion of the Barry family in reality called Flashpoint, but it is under threat. At the same time Barry meets Kid Flash who turns out to be Iris' younger brother – Wally. Meanwhile the hero is threatened by Doctor Alchemy. To smooth things over Barry will have to seek help from friendly Supergirl and even from his enemies – Captain Cold and Leonard Snart will support him. But the worst is yet to come: Savitar – a cruel runner threatens not only Barry, but the entire planet. They will have to find out who is faster and everything will depend on this competition.
The preview of the 6th season
In the next season there will be 23 episodes and they will reveal all the secrets of the previous seasons' finale. The action takes place six months after Flash has left Central City for his own safety. But without a hero life doesn't stop: his team maintains order. Wally, Cisco, Joe, Iris and others never stop fighting with met-villains and they are trying to find a way to return Barry from the Speed Force. As a result Flash and his team will find themselves in an alternate reality created by Scarlet Speedster.
Many characters will be changed or transformed and the number of enemies will only grow. In addition to Captain Cold, Magenta and Mirror Master there will be a new supervillain. The main bad guy of the upcoming season is a Music Meister who will give a lot of trouble to Barry and his people.
Filming
In March 2014 the shooting of the pilot episode began: two cities were chosen as a film set. Portland and Vancouver became epicenter of the struggle between good and evil for some time. It's not easy to make a fantastic show: many things that the viewers see on screen is the result of many hours of shooting and competent work of the special effects team. For example, the battle scenes are filmed in the pavilion and in the process of mounting their figures are superimposed on separately taken landscape shots.
To show the incredible speed of the main hero hundreds of people had to stop for minutes while Flash was imitating running. The extra attention should be paid to his costume: he is dressed in leather costume with elastic inserts, it took the main character 40 minutes to put it on, and the mask was attached with the help of special glue. It's hard to imagine how difficult it was to take it all off.
Cast
An essential condition of the series success is a close-knit and professionally chosen cast. The producers decided not to risk and choose only best of the best: all the actors have played in many films. Most of the cast has worked on the series «Supernatural» and «The Flash» back in 1990. It helped to work more effectively.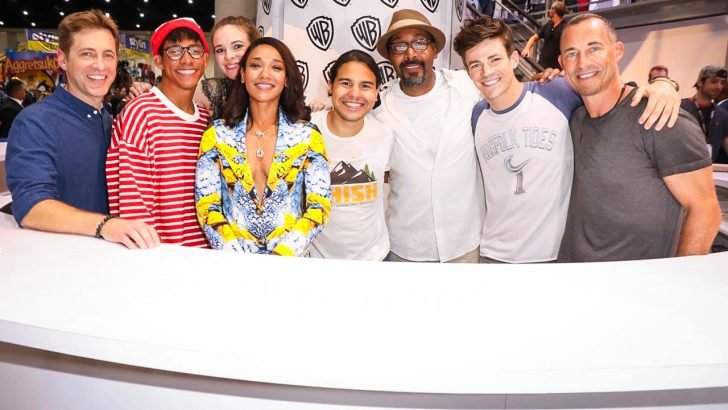 The leading role of Barry-Flash was played by a rising star – Grunt Gusting. He is known by his roles in the series «Glee» and «A Mother's Nightmare», so he did his job perfectly.
Candice Patton, who played in a famous show «Grey's Anatomy», transformed brilliantly into iris West, Barry's friend.
The role of Barry's ally – Cisco – was played by Carlos Valdés – a Columbian actor – and this is his only significant role at the moment.
Antagonists of the season are also very charismatic and talented: Danielle Panabaker as Caitlin Snow, Tom Cavanagh, famous for his role in sitcom «Scrubs», turned into insidious Professor Zoom.
Facts about the show
The world saw a superhero called Flash for the first time in 1940 – since that moment 6 movies and TV series have been filmed and Flash appeared in 3 projects as a side character;
Flash is on a list of top-10 most popular fantastic characters of all time: he is number 8;
Flash doesn't have a certain «second face»: in different projects he was called Jay Garrick, Wally West, Bart Allen and in this show it's Barry Allen;
Many actors of the new version played in the series in 1990: John Wesley Shipp who play Barry's father- was Flash himself in the early version. Mark Hamill, known as Trickster, played the same role in 1990.
When will The Flash Season 6 be released
| Episode number | Name | Release date |
| --- | --- | --- |
| 6x01 | Episode1 - Pilot | October 8, 2019 |
| 6x02 | Episode 2 | October 15, 2019 |
| 6x03 | Episode 3 | October 22, 2019 |
| 6x04 | Episode 4 | October 29, 2019 |
| 6x05 | Episode 5 | November 5, 2019 |
| 6x06 | Episode 6 | November 12, 2019 |
| 6x07 | Episode 7 | November 19, 2019 |
| 6x08 | Episode 8 | November 26, 2019 |
| 6x09 | Episode 9 | December 3, 2019 |
| 6x10 | Episode 10 | December 10, 2019 |
| 6x11 | Episode 11 | December 17, 2019 |
| 6x12 | Episode 12 | January 21, 2020 |
| 6x13 | Episode 13 | January 28, 2020 |
| 6x14 | Episode 14 | February 4, 2021 |
| 6x15 | Episode 15 | February 11, 2020 |
| 6x16 | Episode 16 | February 18, 2020 |
| 6x17 | Episode 17 | February 25, 2020 |
| 6x18 | Episode 18 | March 3, 2020 |
| 6x19 | Episode 19 | March 10, 2020 |
| 6x20 | Episode 20 | March 17, 2020 |
| 6x21 | Episode 21 | March 24, 2020 |
| 6x22 | Episode 22 | March 31, 2020 |
| 6x23 | Episode 23 | April 7, 2020 |
Trailers and video teasers

Official trailer

Funny moments from behind the scenes