Adult Swim Network declared about premiere date of Rick and Morty season 7. Next part will return on October 15, 2023. That's everything to know on the seventh season.
Science-Fiction Comedy Adventure Television Series Rick and Morty premiered on December 2nd, 2013 at Adult Swim Network from United States. Television Series has 71 episodes in 7 seasons that aired every Sunday at 11 pm. It was produced by Kenny Micka (Producer) and Jessica Gao (Executive Story Editor).
Fresh episodes comes out on Sundays and has duration 30 minutes. Audience grading show with average rating 8.8.
Contents:
The Plot
The Smiths family can be regarded a typical American social unit: the head of the family is a successful advertising manager Jerry Smith who has neither intelligence nor ambitions. Jerry is a huge fan of the «Titanic» movie and he never misses an opportunity to make a joke about his wife. Jerry's wife – Beth – was the beauty queen in high school and held big promises. But one night with Jerry at the prom ends with them having a child at 17 and with a sudden wedding. As the result Beth has to give up a surgeon's career and becomes and ordinary vet. She is constantly thinking about «What if…» and tries to divorce her husband from time to time. The fruit of their love – Summer – is a typical 16-year-old teenage-girl who is worried about her appearance. Summer is deeply in love with her phone and can't live a minute without it, furthermore she is a women's rights defender. The second child in the Smiths family is Morty – a goofy boy in the prime of puberty. He dreams of a girl from his class but his appearance doesn't allow the boy to get what he wants. Skeleton in the closet of the Smiths family is Rick – Beth's father - who can design a robot in a few minutes and can make a device to give dogs intelligence. Rick is crazy about science and experiments, he is a cynic to the bone, he doesn't believe in God and love and he is only attached to alcohol and Morty. Carrying Morty with him to numerous journeys and adventures, Rick shows him an infinite variety of the universe. Together they will get into Anatomy park inside of the drunk Santa Claus, they will buy a sex-robot which produces Gazorpazorps – the evilest creatures on the planet, they will unearth the aliens' plot when they replaced the Earth with a modeled world and even will beat Devil himself who bought Google! Each episode of «Rick and Morty» - is an unbelievable adventure when the heroes are within a hair's breadth of death but the genius of Rick always saves them.
Rick and Morty Season 7 Release Date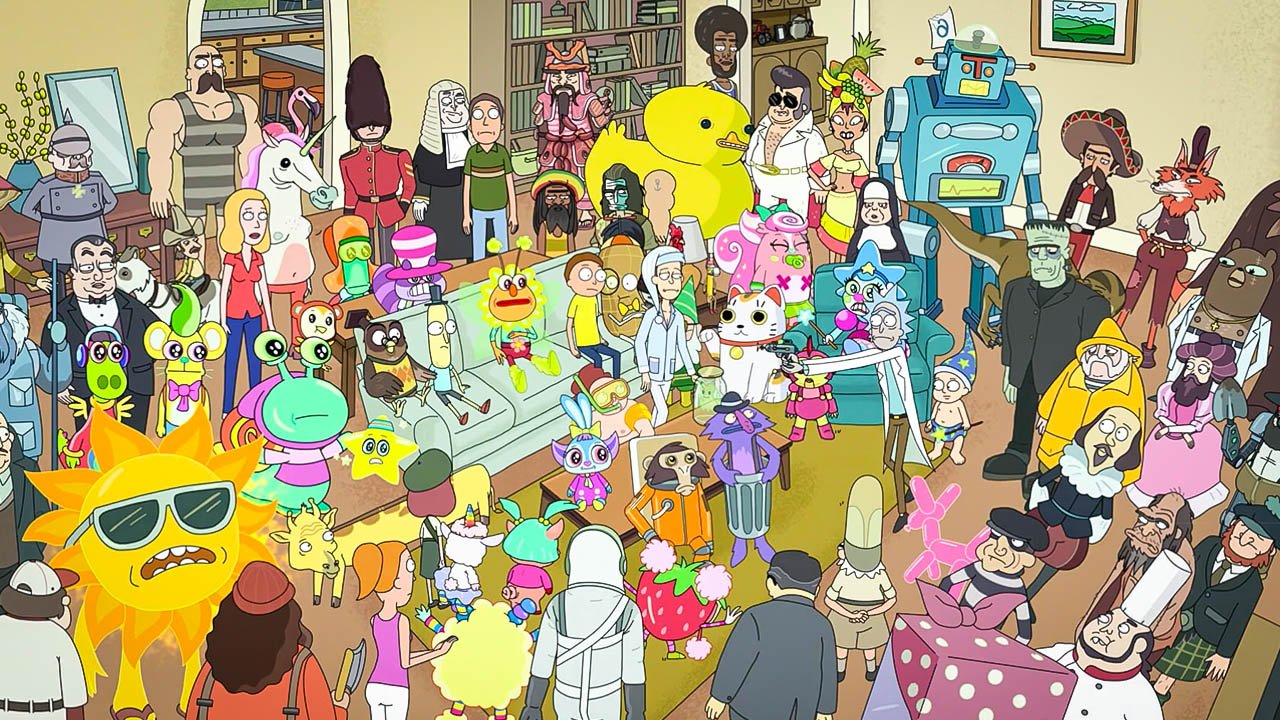 The Adult Swim Network is not yet revealed their plans with TV series "Rick and Morty". But by comparing with previous schedule, likely premiere date of Rick and Morty 7th season is Sunday, October 15, 2023.
Rick and Morty Season 7 Cast
The lead roles in TV show was played by Justin Roiland as Rick Sanchez, Morty Smith and Spencer Grammer as Summer Smith. As well Sarah Chalke (Beth Smith) and Chris Parnell as Jerry Smith.
Schedule for Rick and Morty Season 7
| Episode number | Name | Date |
| --- | --- | --- |
| 7x01 | Episode 1 - "How Poopy Got His Poop Back" | October 15, 2023 |
| 7x02 | Episode 2 - "The Jerrick Trap" | October 22, 2023 |
| 7x03 | Episode 3 | October 22, 2023 |
| 7x04 | Episode 4 | October 29, 2023 |
| 7x05 | Episode 5 | November 5, 2023 |
| 7x06 | Episode 6 | November 12, 2023 |
| 7x07 | Episode 7 | December 24, 2023 |
| 7x08 | Episode 8 | December 31, 2023 |
| 7x09 | Episode 9 | January 7, 2024 |
| 7x10 | Episode 10 | January 14, 2024 |
Trailers and Video Teasers
Summer and Beth's Season 7 Announcement | Rick and Morty | adult swim