«Rick and Morty» – is a comedy popular-scientific animated series which is shown in the adult block «Adult Swim» on Cartoon Network. This slightly insane mixture of «Back to the Future» and «Futurama» has quickly gained wide popularity and in every episode, there are some popular quotations – the parents of the show – Justin Roiland and Dan Harmon – can be proud of their brainchild.
Viewers are waiting eagerly for the new episodes and watch the old ones over and over – you can always find something new in them. According to the Instagram of Justin Roiland, who is a producer and the main voice actor of the project, Rick and Morty season 4 was ordered by the channel [Adult Swim] and will be released on November 10, 2019. Moreover, there will be at least 70 episodes.
Rick is a true genius who suffers from alcohol addiction and he has a talent to get into the most extraordinary situations. Not to be alone, Rick takes his grandson Morty with him everywhere – he is a typical insecure teenager who just can't say «no». They travel the universe together and endanger not only their lives but the survival of the human race.
Contents:
The Plot
The Smiths family can be regarded a typical American social unit: the head of the family is a successful advertising manager Jerry Smith who has neither intelligence nor ambitions. Jerry is a huge fan of the «Titanic» movie and he never misses an opportunity to make a joke about his wife. Jerry's wife – Beth – was the beauty queen in high school and held big promises. But one night with Jerry at the prom ends with them having a child at 17 and with a sudden wedding. As the result Beth has to give up a surgeon's career and becomes and ordinary vet. She is constantly thinking about «What if…» and tries to divorce her husband from time to time.
The fruit of their love – Summer – is a typical 16-year-old teenage-girl who is worried about her appearance. Summer is deeply in love with her phone and can't live a minute without it, furthermore she is a women's rights defender. The second child in the Smiths family is Morty – a goofy boy in the prime of puberty. He dreams of a girl from his class but his appearance doesn't allow the boy to get what he wants.
Skeleton in the closet of the Smiths family is Rick – Beth's father – who can design a robot in a few minutes and can make a device to give dogs intelligence. Rick is crazy about science and experiments, he is a cynic to the bone, he doesn't believe in God and love and he is only attached to alcohol and Morty.
Carrying Morty with him to numerous journeys and adventures, Rick shows him an infinite variety of the universe. Together they will get into Anatomy park inside of the drunk Santa Claus, they will buy a sex-robot which produces Gazorpazorps – the evilest creatures on the planet, they will unearth the aliens' plot when they replaced the Earth with a modeled world and even will beat Devil himself who bought Google! Each episode of «Rick and Morty» – is an unbelievable adventure when the heroes are within a hair's breadth of death but the genius of Rick always saves them.
The Preview of the 4th season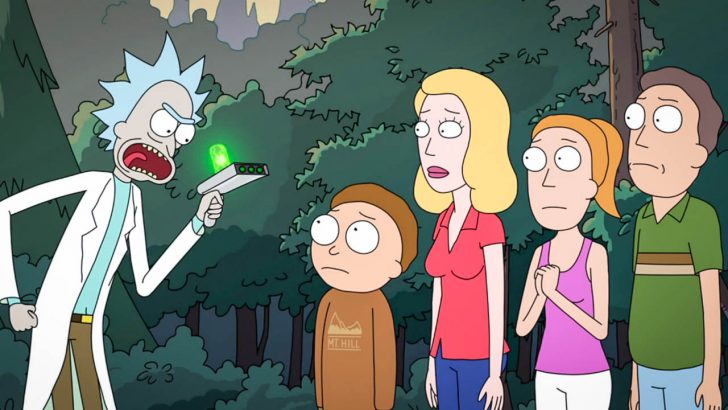 In the new season the grown-up Morty (he turned 15 at the end of the 3rd season) will show much more resistance to Rick's eccentric tricks and it becomes more and more difficult for the scientist to carry his grandson with him. Nevertheless, the adventures of the close-knit family will continue: they will visit together numerous planets, make several spatial jumps and put the world at risk no less than 5 times!
Season was divided on two parts. Second part consist from 5 episodes, which will be aired on Adult Swim from May 3 to May 31.
Filming
Justin Roiland and Dan Harmon didn't know each other before the festival of non-commercial of short films in LA, where the pilot episodes of different projects are shown and some of them go to the wide screen. The viewers said that the experimental work of Roiland was «inadequate and slightly insane». However, the young script-writer attracted Harmon's attention who liked the humor.
Since then their effective co-operation has started: they have released a few successful cartoons in 2006 which later turned into «Rick and Morty». Their main idea based on trilogy «Back to the Future» and described the adventures of a mad scientist and a young boy.
Cast
Actors are special people. They are able to bring any character to life, to make him the point of discussion, hatred or admiration. In the world of animation the voicework is extremely important: only with the help of voice people who are behind the scenes should be remembered by a wide audience and become recognizable. There are special requirements for voice actors: it's a pleasant tone of voice, a perfect diction, an ability to imitate sounds and outstanding vocals.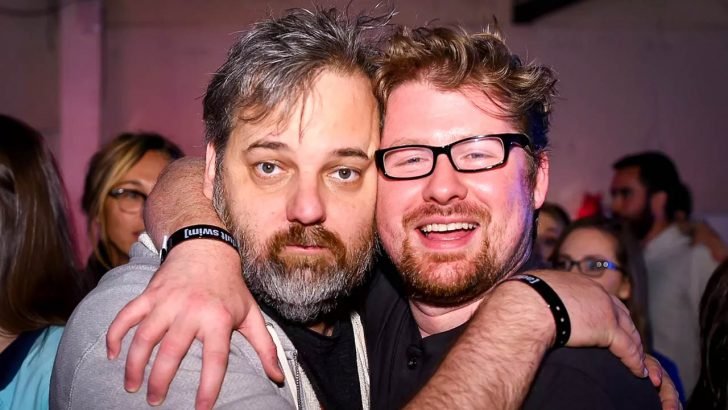 Justin Roiland who voice-overs both main characters in fact talks to himself most of the time and he changes from one character to another brilliantly. However, he has his favorite, it's more pleasant for him to voice-over the mas scientist Rick – many of his line are pure improvisation.
Sarah Chalke – who is known as Elliot Reid from the sitcom «Scrubs» – agreed to take part into an experimental project, inspired by the quality of animation – she voices Morty's mother.
Chris Parnell – Morty's father – is also rather famous in Hollywood: he has more than 120 works on his account, including the series «30 Rock» and the sitcom "Suburgatory".
Summer Smith – Morty's sister – is voiced by Spencer Grammer – and now it's her most successful work.
Interesting facts
Rick and Morty are voiced by one person – the father of the project Justin Roiland.
In 2015 there appeared a comic book about Rick and Morty: the script was developed by Zac Gorman and it was drawn by C.J. Cannon. However, the project wasn't very popular and it closed quickly.
The music theme was written for another Roiland's project which didn't came out. The cartoon should've been called «Dog world» and tell about people who live in the world which is ruled by anthropomorphous dogs.
Originally Justin Roiland planned to release short episodes which last 11 minutes each but the general producer of «Adult swim» insisted on standard timing.
Morty's dog – Snuffles – is a copy of Roiland's dog.
Closing credits don't mean that you should turn the TV off – a portion of brilliant humor is waiting after them.
FAQ About Rick and Morty Season 4
✅ Rick and Morty Season 4 Release Date
First episode from 4th Season of Rick and Morty was released on November 10, 2019 at AdultSwim Channel.
👽 What happened to Morty and Rick Sanchez in Season 4
Morty gets a dragon, Rick lose his seat, Jerry was on the verge of dying and Elon Tusk meet our heroes on the Tuskla factory in parallel reality.
📅 How Many Episodes Will Be There In Season 4?
There are ten episodes in 4th season according to co-creator Harmon. It was split on two parts. First was shown from November 10 to December 15, 2019. Second part will return to screen on May 3, 2020 and consist from five episodes.
When will Rick and Morty Season 4 Release
| Episode number | Name | Release date |
| --- | --- | --- |
| 4x01 | Episode1 - "Edge of Tomorty: Rick, Die, Rickpeat" | November 10, 2019 |
| 4x02 | Episode 2 - "The Old Man and the Seat" | November 17, 2019 |
| 4x03 | Episode 3 - "One Crew Over the Crewcoo's Morty" | November 24, 2019 |
| 4x04 | Episode 4 - "Claw and Hoarder: Special Ricktim's Morty" | December 8, 2019 |
| 4x05 | Episode 5 - "Rattlestar Ricklactica" | December 15, 2019 |
| 4x06 | Episode 6 - "Never Ricking Morty" | May 3, 2020 |
| 4x07 | Episode 7 - "Promortyus" | May 10, 2020 |
| 4x08 | Episode 8 - "The Vat of Acid Episode" | May 17, 2020 |
| 4x09 | Episode 9 - "Childrick of Mort" | May 24, 2020 |
| 4x10 | Episode 10 - "Star Mort: Rickturn of the Jerri" | May 31, 2020 |
Trailers and video teasers
Official trailer of New season
Episode names revealed